HALF TWISTED-HALF KNOT
RECENT NEWS AND/OR EVENTS:



It has been pointed out that it is 2017!

This means:
"WE HAVE BEEN ENTERTAINING FOR 31 YEARS"!

---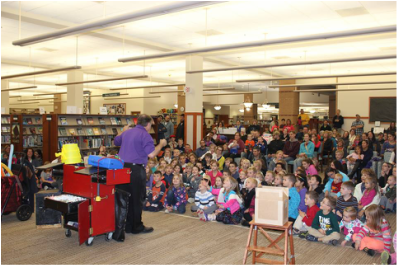 The BIG BALLOON, MAGIC VARIETY SHOW IS A HIT!

Our Big Balloon and Magic show is such a hit that already booking out until 2018 on many weekends. Contact me early to schedule me for your library, school, campground, summer daycare, church fair, county fairs and festivals.





---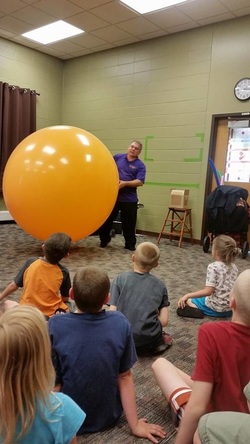 Boy scout 'Blue and Gold' dinners are already booking for next February to April of 2017, however we still have a bunch of weekday evenings open and a few weekends. We are offering something special just for Blue and Gold dinners we are changing our challenge prize. Instead of winning a $100 the person chosen will get a chance at winning a 50 inch 4k smart TV (a $400 value). This is for a limited time only and only for Blue and Gold events.

Theses dates are getting a lot of inquiries, so please, contact me to reserve a date. I do try to either entertain for you or if I am booked, I will suggest a few names of other local performers.


While we mainly offer a balloon related magic show, we can also do a non-balloon show upon request focusing on Magic.

---
---
NOW THE BAD NEWS...
We have tried to keep out costs down and yet offer you Wisconsin's largest balloons and most unique variety entertainment. Over the years we have eaten the increase in balloon costs, gas costs and insurance hikes while trying to increase the amount of shows per day to get by. While our profits were smaller with more shows we were able to still grow our company. However, with the recent and dramatic increases in my insurance and operating costs we have decided we can do one of three things. 1. Close our doors and seek other occupation (something that we don't think is the best option for our audiences or people that have come to expect to find easy to work with, quality entertainment offering balloons and performances to the scale we offer), 2. We can decrease our balloons costs by scaling back on many of the larger balloons, different shape balloons and our large selection of colors to offer smaller and less exciting balloon creations (disappoint clients that know our work), 3. Increase our price (risking losing of our valued customers as they can no longer afford our services).

We have selected to proceed with the third option, as we do not wish to decrease our quality or value of our service. We will be having a drastic price increase to our services to reflect our needs just to stay in business. We have built in that price an additional 5% buffer in case balloon prices or gas prices hike again, or in case my health or liability insurance premiums increase again. I have already spoken to a few customers and they have said that I am worth the new price and have reserved my services over the next year. This gives me a little confidence moving forward. We hate having to increase our prices, but I have been running myself to the point of exhaustion just to break about "even". We hope this price increase will allow me to not only continue to provide quality entertainment, but even give me a bit of chance to invest in making our show better.

This means, on January 1st, 2017, we will be started under our new pricing. Anyone that has reserved our services (into next year) before that time, under the old prices, will be honored at those prices for their events. We may be periodically be offering specials for un-booked or under booked days for those looking for a possible discounted prices for last minute events. Because of our reputation for quality, family entertainment and my "insane" schedule last year and the number of repeat customers it is still highly recommended you reserve and secure your date early to make sure to get on our calendar.

Thank you for 31 wonderful years and hopefully a few more to come.

--------------------------------------------------------------------------------------------------------------------------------
EFFECTIVE January 4th, 2017

I AM NO LONGER A MEMBER OF GIGSALAD.COM.

Several changes in their policies I felt were detrimental to both the performer and to the clients. Their policies were making it harder for the clients to find the specialist of that they were looking for and they were starting to charge both the performer and the event planner to book events. While I used their service for over 8 years and loved them when they first started out, I can no longer endorse them and recommend that everyone go elsewhere when booking events.

If you are interested in hiring a performer I always suggest you contact a performer directly. This will save you booking fees. In addition, you will be able to find out their availability immediately and get recommendations if they are not. Not only will it make things easier for you, but you will be able to negotiate what is the best show for your needs.


---
---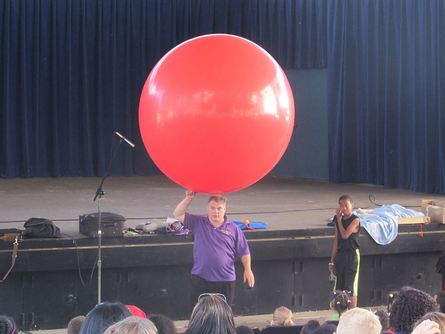 HIGHLIGHTS OF 2016!
Due to the death of my mother
I stayed local this year
-----------
Repeat clients were up to almost 95% of all corporate and 65% of all private parties
had me back for this year.
-----------
I have never had such a busy schedule as I have this year
.
A special thank you to every event planner that contacted me early
and to those last minute planners that had flexibility in your event schedules
to allow me to service your entertainment needs!
-----------
WISCONSIN EVENT
PERFORMED AT THE GOVERNOR'S MANSION AGAIN!
That was 3 years in a row!
-----------
PLEASE, CONTACT ME EARLY FOR MORE INFORMATION ON WHAT I CAN OFFER YOUR EVENT!
WE HAVE MANY CONFIRMED BOOKINGS ALREADY FOR SHOWS IN 2017-18.
WE WOULD LOVE TO FIT YOU INTO
MY NEXT YEARS SCHEDULE.
IT IS IMPORTANT TO
TRY AND BOOK EARLY
TO RESERVE YOUR PREFERRED
DATE AND TIME.
THANK YOU!
---

ADDITIONAL HIGHLIGHTS IN THE LAST FEW YEARS
We have appeared at:

Greater Milwaukee Auto Show
Twice at TrainFest (Worlds largest train related show)
Various resorts and country clubs
My show was professionally filmed at the legendary Al Ringling Theatre in Baraboo, Wisconsin.
One fortune 1000 corporate client has had me back for 11 events (which is more than any other performer they have used in the past! I have, also, provided them with some of the world's best balloon twisters to work beside me. One of them was even voted top twister for 2013 at TWIST AND SHOUT!)
My balloons this year have been seen in Wisconsin, Illinois, Michigan, South Dakota, Iowa, Arkansas, Missouri, North Dakota, Minnesota, Ohio, Indiana, Pennsylvania, New Jersey and New York.
I have performed in more counties in Wisconsin than any other balloon twister in the area.
The Mayor of Milwaukee and the County Executive both mentioned me in a speech at a private event where I performed. Mayor, Tom Barrett, even went on to call me the "Best Balloon Artist in the World". ALSO got to perform for State Governor (and former presidential candidate) Scott Walker and his wife's egg hunt at the executive mansion two years in a row.

I broke my own personal record by performing at 5 different events, in a single day. Also, on another day, I was able to perform for events in multiple states! The best part was all the positive feedback that I got from these events in the following days.
In Arkansas, I worked with 18 of the best balloon artists in the nation to create some amazing works of art. Click on the following link to see just some of the examples of what we did.
In New Jersey, I worked with TEAM BLUE to create a team build of a flying car that took first place. I personally competed in the "celebrity" competition and took first place for my balloon competition.
The next year, I headed back to New Jersey and my "TEAM SIX" took first place. The main focus for my team effort was on the "Table Centerpiece" and it placed first place leading our crew for the win of "FIRST PLACE TEAM".
In addition to magic and balloons my show added some interesting ventriloquism props that I am using them in unique ways. You want to know what they are - you just have to come to one of my shows!
---